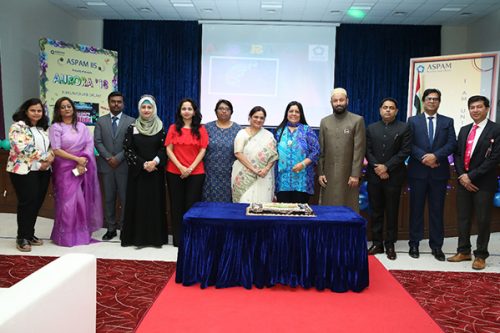 Thumbay Hospital Day Care – Rolla, Sharjah, the leading multispecialty day care hospital participated in ASPAM Indian International School's 'ASPAM AURORA FEST' on 3rd November 2018 with a variety of health awareness programs for the attendees. The hospital's services at the program venue included a Breast Cancer Awareness session by Dr. Shalini Somnath (Specialist Obstetrics and Gynecology) , as well as the launch of 'Cover up Cough Campaign' by Dr. Naveen Kumar Nanjasetty (Specialist ENT Surgeon) and free health checkup by Dr. Priyanka Hemanth Pansare.
A Samsung Smart TV and other prizes for lucky winners selected from among the attendees of ASPAM AURORA FEST were awarded by Thumbay Hospital Day Care – Rolla. The hospital also distributed health checkup vouchers at the venue. As part of ASPAM AURORA FEST, 'Sunshine Day' was celebrated with various fun games for children. Thumbay Hospital's goody bags were presented to all the contestants.
The management of ASPAM as well as visitors appreciated Thumbay Hospital Day Care – Rolla, Sharjah for the participation.