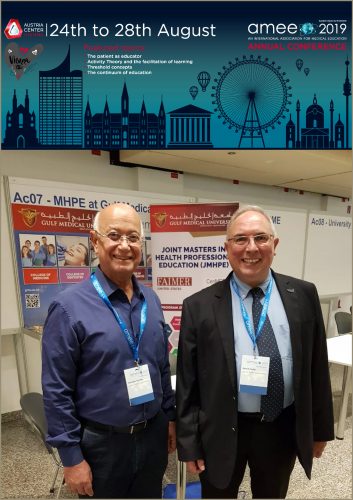 Prof. Hossam Hamdy, the Chancellor of Gulf Medical University (GMU), along with Prof. David Taylor, Professor of Medical Education at GMU, conducted a workshop on the topic 'Quality through innovation in medical education: Planning for the future', on 27th August 2019, as part of the prestigious Association of Medical Education in Europe (AMEE) Annual Conference in Vienna, Austria. The conference was attended by over 4500 international medical and health professionals and educators from leading institutions in the world.
An important viewpoint presented by Prof. Hossam Hamdy was that medical colleges of the future will undergo significant changes as part of their shift from 'informative' to 'transformative'. Prof. Hossam Hamdy and Prof. David Taylor discussed strategies, innovation, from developing the use of information technology, through re-thinking curriculum design and delivery, to completely re-visioning medical schools, in the process of bringing about the change.
Prof. Hossam Hamdy also said that the field of medicine is a social science, dealing with people, societies and human interaction. Stressing upon the humanistic aspect of medicine, he said, "We should not forget that medicine is a social science and it is about people, societies and human interaction, inseparable and embedded in a rapidly changing healthcare system. The only thing which we can predict with confidence about medical education is that, for the coming few decades, the patient is human, the doctor is human, and the medical student is human; what will change is how they communicate, interact with, and understand each other, he said, adding, "The rapid changes in technology, economics, lifestyle, etc. will need not only knowledge, skills and prior experience, but more of adaptation to changes and transformative abilities. Any innovation should be value-based innovation not only for using technology, but it should also bring value and sustainability."
The workshop included discussions on the innovations proposed by the attendees. At the end of the workshop, a list of innovative ideas was compiled, along with feedback on the practicality of their implementation and possible generalizations to other contexts. The compilation is expected to result in developing action research projects that will impact upon the systems and situations specific to the participants' respective contexts of work.