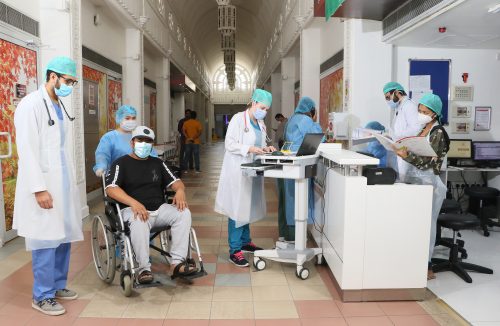 Total 26 students from the clinical years, from various colleges and programs of GMU, of 12 different nationalities join the frontlines in the battle against the global pandemic
Students of Gulf Medical University (GMU), Ajman, have volunteered their services to support the fight against the global pandemic COVID-19. 26 student volunteers registered for participation, and the volunteers include students form the clinical years of various programs under the College of Medicine, College of Health Sciences and College of Nursing. They represent 12 different nationalities, viz., UAE, Egypt, Jordan, Yemen, UK, South Africa, India, Pakistan, Bangladesh, Russia, Kyrgyzstan and Comoros Islands.
Commenting on the student volunteers, Prof. Hossam Hamdy, the Chancellor of GMU said, "We are not surprised by the eagerness of students to volunteer their services, irrespective of the risks involved, as the world battles the pandemic. Commitment to the medical profession is something we imbibe in our students. GMU students volunteer regularly at medical and health camps for the benefit of the general public.Furthermore, for the students, providing support to the medical professionals at the frontlines will be an invaluable experienceand learning opportunity."
Driven by their desire to help the community, the students said that they are happy to volunteer during tough times, putting their medical skills to good use. Many of them feel that this is a chance to make a difference. As for the risk factor, they feel that it entails only an ordinary risk in the medical profession. "Being at the frontlines is part of our profession. Ever since we decided to pursue career as health professionals, we have been aware and willing to serve the people who need our help," one of them said.
Gulf Medical University is ensuring that the student volunteers are supported with the necessary trainings, safety gear and supervision. All volunteers will be trained on hygiene procedures for health professionals, teaching them the right way of disinfecting and using protective gear.
The student volunteers will be deployed at the various academic hospitals under the Thumbay Hospital network in the UAE and if needed in other hospitals in UAE. They will be tasked with assisting senior doctors and nurses in all ways possible.
GMU and its network of academic Thumbay Hospitals, Thumbay Labs & Thumbay Clinic play a key role in UAE at this juncture of the crisis.