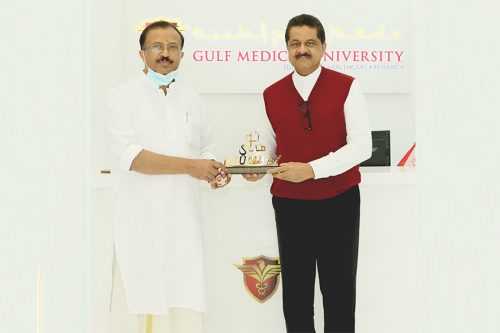 A regional hub of medical education, healthcare and research built by Thumbay Group Welcomed Shri V. Muraleedharan, Hon'ble Minister of State for External Affairs, India along with H.E. Dr. Aman Puri Consul General of India in UAE and Diplomat Mr. Vipul were greeted at Thumbay Medicity by Dr. Thumbay Moideen – Founder President of Thumbay Group during their visit to Thumbay Medicity, Ajman, UAE on 21st Jan.2021.
Shri V. Muraleedharan toured the advanced healthcare and medical education facilities at Thumbay Medicity including Gulf Medical University – the largest private medical university in the Middle East region, Thumbay University Hospital – with 350 beds, the biggest private academic hospital in the region.
Shri V. Muraleedharan commended Thumbay Medicity for the excellent facilities for healthcare and medical education & Research as well as the University's advanced training and teaching facilities. He appreciated Dr. Thumbay Moideen being the first Indian to Achieve this and Thumbay Group's efforts in bringing the latest technology and innovation in healthcare and medical education to the region. He also Thanked the UAE Government for the support Rendered to Thumbay Group in establishing such a project in Ajman.
Dr. Thumbay Moideen said that Thumbay Medicity serves the region as a hub of world-class healthcare, medical education and Research, fully equipped to serve a floating population of 20,000. "The Thumbay University Hospital, combined with the dental and rehabilitation hospitals make Thumbay Medicity a unique destination for specialized care. Thumbay Medicity is also a referral facility to which primary and secondary care hospitals and clinics refer serious cases."
Thumbay Medicity also houses Body & Soul Health Club and Spa, Thumbay Food Court, Blends & Brews Coffee Shoppe, Thumbay Pharmacy etc. The specialized hospitals of Thumbay Medicity are Academic Health Centers of the Gulf Medical University Academic Health System (GMUAHS), which give them the unique advantage of having the expertise of doctors who are also academicians and researchers. GMU & Thumbay Hospitals has the distinction of being the first private academic health system in the region.