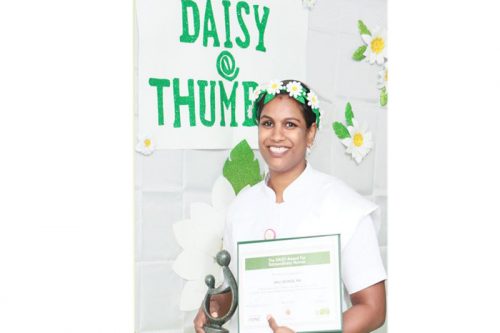 Ms. Anu George has joined our hospital almost four years ago, she was described by her Incharge and Colleagues as "The Kind Hearted" who never says no to anything, she is flexible, accountable and always there to help. Anu was nominated five times, once by her doctor on the Unit and four times by patient's families. She was described with her good attitude, quoting from the patient's family "She is very approachable & cooperative".
Another patient said "She is a good support with positive attitude, I saw her taking care of my child as if her own, Thank You clear sister, we will always remember you. You are doing a great job"
Mr. A. goes back to February 2018 and shares his experience at Thumbay hospital, he says "Me and my wife were blessed with baby boy who was admitted to NICU because of early birth (8 months). All nurses are very good in NICU and one male doctor as well, they are ANU GEORGE, RN, NICU very good in their work and they treated us very well at that time until the baby was discharged. Further, I Specially Thank this nurse for her work especially when the baby was shifted to a general ward, I heard that she was the one who debuted & gave all the instructions to my wife, she visited frequently and enquired about progress and given right instructions to my wife how to handle and feed him without stooding herself when it's time for his change , she is the one who took care of the baby and gave clear instructions about vaccinations, the next follow-up and everything which we are very thankful to her. I don't know if still she is there but even though i recommend her for this award. "
Mrs. R. had a different story about a nurse who went above and beyond the call of duty, quoting her words, she said "Three weeks before my delivery by operation as emergency. My husband went to India for  emergency purpose, that time my elder daughter was alone with me. I met sister Anu while bringing me my baby, I spoke with her for few minutes & she supported me a lot. After the duty she comes to my room and gave food for my elder daughter. I asked her if possible to bring some clothes for me because i did not bring anything from house. Next day she was off, but still she came with clothes for me and my baby. I will never forget her in my life. she is a great nurse.