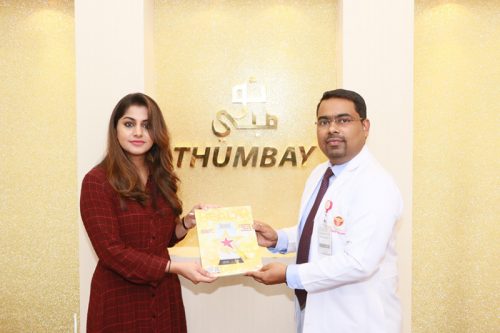 As part of the program, the hospital also launched a 'Healthy Heart Clinic' to promote cardiac health
Thumbay Hospital Day Care, Rolla-Sharjah, the leading multispecialty day care hospital under Thumbay Group's Healthcare Division conducted a 'Mega Health Camp' in association with Bhima Jewellers on 27th July 2019. Organized as a CSR activity, the camp offered free health checkups in various specialties like Cardiology, General Surgery, ENT, Orthopedics and OBG as part of the program, which included specialist consultations, medicines, diagnostic tests and X-rays and ECGs free of cost. The free checkups and consultations were availed by hundreds of people; majority of them expectant women and families. RJ Meera Nandan was the chief guest of the event.
A 'Healthy Heart Clinic' was also launched as part of the program, as part of the hospital's efforts to promote awareness on cardiac health and provide high-quality specialized cardiology care to patients. A specialized destination for comprehensive cardiology diagnostics, the 'Healthy Heart Clinic' aims to provide professional, timely, hassle-free cardiac diagnostics services to individuals and families.