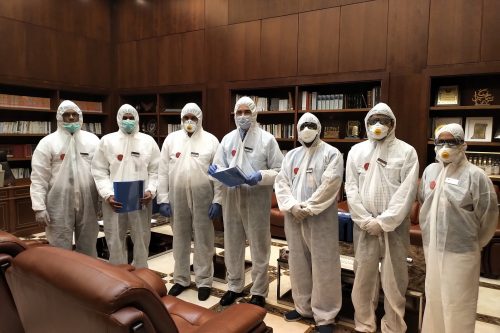 Sample collection at all Thumbay Hospitals and Clinics located at Dubai, Sharjah, Umm Al Quwain, Ras Al Khaimah, Ajman and Fujairah.
COVID-19 will be tested by Government approved RT PCR methodology. The results will be sent online.
Thumbay Labs, the largest network of CAP-accredited private diagnostic labs in the region owned by Thumbay Group, has launched COVID-19 testing under authorization by the Ministry of Health (MOH), UAE, augmenting the Coronavirus testing facilities of the country. Sample collection centers have been set up atall Thumbay Hospitals and Clinics located at Dubai, Sharjah, Umm Al Quwain, Ras Al Khaimah, Ajman and Fujairah.Timings are from 9am to 6pm.
To avail the testing facility, patients may walk in or book an appointment by calling the respective sample collection centers at the Thumbay hospitals and Thumbay clinics, or by contacting the Customer Care number of Thumbay Labs 04 6030555 or 05 66806455 (WhatsApp).Peopleneed to bring their valid Emirates ID to proceed with the test.
The UAE is among the leading countries of the world in terms of number of diagnostic tests conducted for Coronavirus detection. The WHO has already acknowledged the UAE's status as the country with the most per capita testing numbers. We are happy that Thumbay Labs and Thumbay Hospitals are active participants in the UAE's fight against the global pandemic.
''Humanity is facing unprecedented challenge from COVID-19 pandemic. In the war against novel Coronavirus, lab testing plays a very important role. We, at Thumbay Labs, are committed to lead from the front in this war. Thumbay Labs, known for speed and accuracy of reports, will strive tirelessly to provide quality COVID-19 lab testing for the UAE's population,'' said Dr. Nasir Parwaiz, Director, Thumbay Labs.
Thumbay Labs, accredited by the College of American Pathologists (CAP), is the first network of diagnostic labs in the region featuring Total Lab Automation. With ultramodern equipment's&highly qualified professionals, Thumbay Labs offer more than 1500 routine and special tests, with a number of affordable health check panels for everyone. They also provide fast online reports.
Contact Center
Thumbay Labs: 04 6030555 / 05 66806455 (WhatsApp)