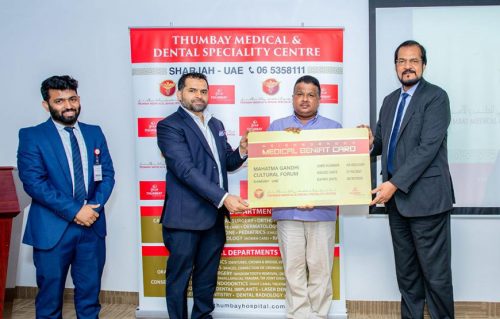 Thumbay Medical and Dental Specialty Center Sharjah has introduced the new Neighborhood Medical Benefit Card as part of 10 years of excellence in healthcare. Sharjah Indian Association President Dr. EP Johnson was the chief guest at the event, which was attended by leaders of various associations, leading companies and media representatives in the UAE. The Neighborhood Medical Benefit Card will include consultation, 20 most commonly prescribed laboratory tests and other hospital services at very affordable price which will benefit patients. This benefit is extended to the people with the help of various associations and companies.
As part of the 10th anniversary, associations, companies and media personnel were honored at the ceremony as a strong pillar of support and contribution to the sustainability of the medical center.
Thumbay Medical & Dental Specialty Centre, Sharjah is a constituent unit of Thumbay Group, a full-fledged multi-specialty Centre with world class ultra-modern facilities providing quality healthcare at affordable prices, rendering quality service to the community for more than 10 years. This center also supports clinical teaching activities of the Dental College of Gulf Medical University. The Centre has facility for outpatients, advanced radiology services with ultrasound and x-ray, extended support from Thumbay pharmacy and Thumbay Lab (Cap Accredited) benefiting patients from the area. The Centre is equipped with various specialty departments & services supported by highly qualified and experienced doctors, strong team of Nursing, Paramedics & Technicians.