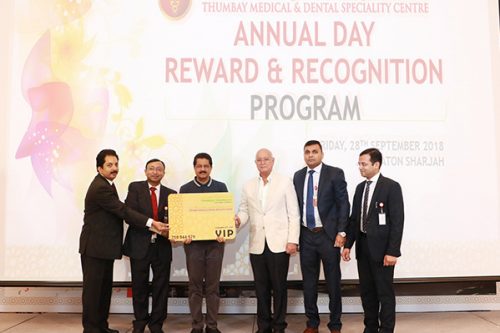 Thumbay Medical & Dental Specialty Hospital – Sharjah, the leading academic hospital under Thumbay Group's Healthcare Division celebrated its 7th anniversary at Sheraton Hotel, Sharjah on 28th September 2018. Dr. Thumbay Moideen, Founder President of Thumbay Group was the chief guest of the annual day celebrations. Also present at the function were Prof. Hossam Hamdy – Chancellor of Gulf Medical University, Dr. Manish Singhal – Chief Operating Officer of the hospital and Dr. Shaju Philip – Medical Director of the hospital.
Addressing the gathering, Dr. Thumbay Moideen expressed his happiness at the accomplishments of Thumbay Medical & Dental Specialty Centre. He also emphasized the role of the hospital in disseminating high-quality, affordable healthcare to all sections of the society.
A video presentation highlighting the successful 7-year journey of Thumbay Medical & Dental Specialty Center was presented before the audience. The celebrations also included cultural programs by the hospital staff. A Rewards & Recognition Ceremony was held as part of the celebrations, in which outstanding staff members were felicitated for their contributions. The event was followed by dinner.
Thumbay Medical & Dental Specialty Centre, Sharjah is a full-fledged multi-specialty center with state-of-the-art facilities providing quality healthcare at affordable costs. This center also supports the clinical teaching activities of the College of Dentistry, Gulf Medical University. In addition to outpatient facilities, the hospital is also equipped with a pharmacy and radiology/laboratory facilities. Its various specialty departments & services are supported by highly qualified and experienced doctors, strong team of nurses, paramedics & technicians.