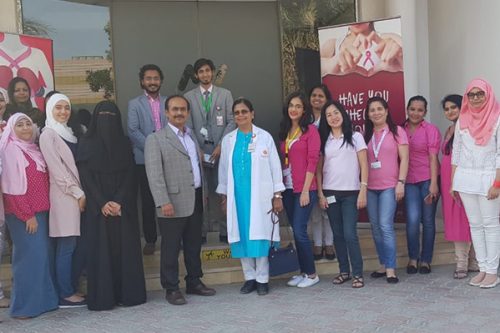 Thumbay Medical & Dental Specialty Centre Sharjah conducted Breast Cancer Awareness Campaign  at Med Pharma Sharjah on 21st October 2018.
The female Staff members of the organization got benefited with the Talk and Lecture in Pink Ribbon Event. Dr. Jyoti Pande (Specialist Gynecologist) conducted a free health talk session about the Awareness and Prevention of Breast Cancer.
About Thumbay Medical & Dental Speciality Centre, Sharjah
Thumbay Medical & Dental Specialty Centre, Sharjah (previously known as GMC Medical & Dental Specialty Centre, Sharjah) is a constituent unit of Thumbay Group, a full-fledged multi-specialty Centre with world class ultra-modern facilities providing quality healthcare at affordable prices, rendering quality service to the community for more than 7 years. This center also supports clinical teaching activities of the Dental College of Gulf Medical University. The Centre has facility for outpatients, pharmacy, radiology and a laboratory, benefiting patients from the area. The Centre is equipped with various specialty departments & services supported by highly qualified and experienced doctors, strong team of Nursing, Paramedics & Technicians.