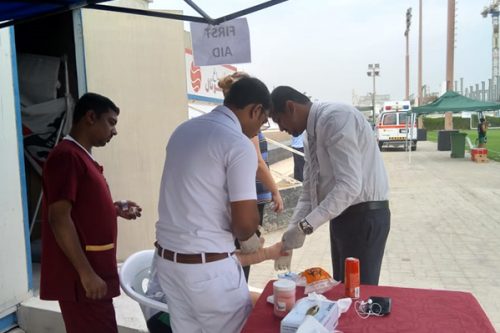 Thumbay Medical & Dental Specialty Centre Sharjah conducted Health Awareness & First Aid Camp in association with Thumbay Hospital Ajman at Wanderers Sports Club Sharjah on 19th October 2018. Around 500 sports men and women got benefited with the presence for Thumbay Group Medical Staffs.
About Thumbay Medical & Dental Speciality Centre, Sharjah
Thumbay Medical & Dental Specialty Centre, Sharjah (previously known as GMC Medical & Dental Specialty Centre, Sharjah) is a constituent unit of Thumbay Group, a full-fledged multi-specialty Centre with world class ultra-modern facilities providing quality healthcare at affordable prices, rendering quality service to the community for more than 7 years. This center also supports clinical teaching activities of the Dental College of Gulf Medical University. The Centre has facility for outpatients, pharmacy, radiology and a laboratory, benefiting patients from the area. The Centre is equipped with various specialty departments & services supported by highly qualified and experienced doctors, strong team of Nursing, Paramedics & Technicians.