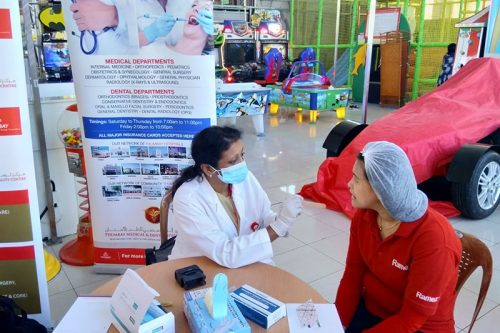 Thumbay Medical & Dental Specialty Centre Sharjah a part of Thumbay Group, the multinational conglomerate headquartered in DIFC-Dubaiorganized a Free Dental Screening & Health Checkup camp in coordination with Hyper Ramez, Sharjah on 29th June 2019.
The camp was held as part of CSR which included free consultation with the Dentist, Blood Pressure & Blood Sugar Check up, and Basic Medical Counseling by GP.
The Management of Hyper Ramez – Sharjah thanked & appreciated The Thumbay Group and its management for their efforts to combat the health related issues & for rendering moral and selfless service to the society.
Thumbay Medical & Dental Specialty Centre Sharjah has been conducting such health camp as a part of Corporate Social Responsibility at various locations in Sharjah, to raise health awareness among the public. More than 150 customers & staffs from Hyper Ramez got benefited from the camp said Dr. Manish Singhal Chief Operating Officer & Dr. Shaju Philip Medical Director at Thumbay Medical & Dental Specialty Center Sharjah.