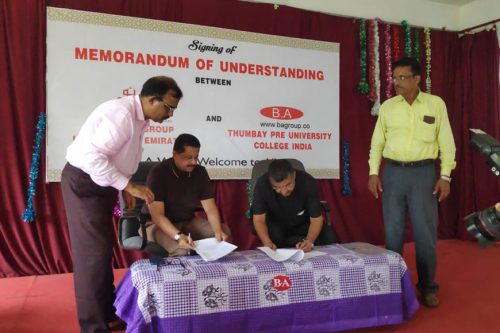 Eligible Students to get Scholarships in Medicine, Dentistry, Physiotherapy, Nursing and Pharmacy Programs.
Thumbay Group, the UAE-based diversified international business conglomerate, has signed an MOU with Thumbay Pre University College under the BA Trust. India, to provide merit-based scholarships to the students of Thumbay PU College at the Gulf Medical University in the United Arab Emirates.
The MoU was signed on 22th July 2022, at Mangalore, by Dr. Thumbay Moideen, Founder President, Thumbay Group UAE and Mr. B. Abdul Salam, Managing Trustee of the BA Trust, India. According to the MOU, GMU will offer scholarships in varying percentages for the students of Thumbay Pre- University College who fulfill the Gulf Medical University's scholarship criteria. The agreement also envisions academic cooperation between both parties.
The Thumbay School was founded in 1988 by the late. Founder Dr. Sri B. Ahmed Haji Mohiuddin who hails from Thumbay and worked towards uplifting the Thumbay Community and has also established B.A Group Thumbay and Many other Institutes in and around Thumbay. The school has various amenities with 1500 both boys and girls perusing their schooling at Thumbay. The Thumbay School has produced Brilliant students who have grown and absorbed into various Colleges and Universities across in India and Abroad.  This MOU will strengthen the relations with Gulf Medical University and the School students will International Exposure to peruse their dream careers further.
Commenting on the MOU, Dr. Thumbay Moideen said, "It is my personal commitment with my late father Shri Dr. B. Ahmed HajiMohiuddin, Founder of the Thumbay Pre University College to provide a few scholarships to the needy and meritorious students of the Thumbay Pre University College and also assure support to take the school to the next level to meet the educational needs of the next generation."
Gulf Medical University is owned and operated by Thumbay Group, a diversified business conglomerate headquartered in DIFC – Dubai. From humble beginnings in 1998 Founded by Dr. Thumbay Moideen. Over the last 24 years, GMU has strived relentlessly to scale new heights by fostering brilliance to over 2600 students plus 2000 part time from more than 90 different nationalities and 29 accredited Undergraduate and Graduate programs run by the 6 constituent colleges in the field medicine, dentistry, pharmacy, nursing, biomedical sciences, healthcare management and economics, anesthesia technology, medical laboratory sciences, physiotherapy and healthcare management and economics. In addition, the university also offers short term certificate courses for health workforce development and career enhancement.
School Admissions are now open, for various classes.